Winters can be a little tough sometimes. It comes with a lot of problems like dry skin, chilly weather, wearing a lot of layers and whatnot. In winters one has to make sure that onetakes proper care so as to avoid catching any diseases. But sometimes if you want to remove one of the top layers, you may feel cold and wearing them can make you feel a little heavy so to avoid such a situation, you can go for thermal wear. Thermal wear is closely knitted piece of clothing which you can wear under your clothes. It can help you keep warm in the cold weather.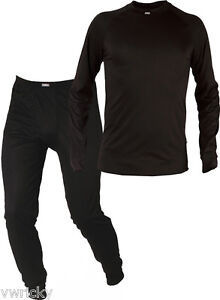 Benefits of a thermal
If you are someone who is not much interested in wearing thermals then keep reading to know why you must give it a try at least.
As thermal wear is usually worn under the main clothing, so even if you remove a top layer, you will still fteel warm. You don't have to worry about feeling cold at all.
Most of the thermals are tightened from the ends hence preventing cold air from entering in. It is a great one to go for in case of extreme cold.
Thermals are quite affordable. These are available at cheap prices so that anyone can afford it but the quality differs from company to company.
These are made of various types of fabric like wool, cotton, polyester, etc. So it gives you a little variety to choose from. Even if you are not comfortable with one of the fabrics, you can always go for the other one.
These are quite thin thus wearing them under your clothes won't make you feel uncomfortable. You can wear these under an item of heavy clothing without feeling heavy.
Similar Read
:
Do You Know About The Benefits Of Thermals?
How do these work?
Thermals work with the principle of insulation. These are made from such fabric that it can absorb all the sweat from your body easily which results in keeping your body dry. It can also help you from avoiding the cooling effect caused by evaporation of sweat. Thermals these days are offered by many companies. You can choose any brand you want to. These are also available in different colors hence giving you a variety. You can buy these easily from anywhere you want to as these are available both at local stores and at online mode. Best thermals for men are available easily too.You can save yourself some time in the cold weather outside by shopping online but on the other hand, you can know about the quality properly in an offline mode. One of the great things is that these are available in almost all sizes and for people of all age. It doesn't matter whether you are buying for a kid, a teenager, an adult or someone old, you can find them easily in the season.
So if you haven't used thermal wear then you must give it a try at least. These are quite comfortable and can easily sneak under your clothing without ruining the show of your clothes.